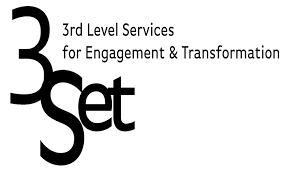 In 2019, funding was awarded by the Higher Education Authority Innovation and Transformation Fund to a project that became known as 3Set. This project had three strands underneath it, led by UCD, TUS Midlands and TCD respectively. The culmination of this project was in a report that was launched on Monday 20th June. USI had an integral involvement with this project from the outset. The full report can be found here.
What were the three strands?
Work Package One created a set of measures that all institutes should use to collect data on students who go through student counselling services, which will enable counselling service to track what student needs are, and meet them accordingly. They also created a network which combined researchers and practitioners so that they can better collaborate using this dataset.
Work Package Two were the lead authors on the first National Student Mental Health and Suicide Prevention Framework which was launched in October 2020 (you can find the framework in full here), as well as forming part of the Connecting for Life Working Group which is a cross-sectoral group focusing on student mental health.
Work Package Three created resources and a replicable model for peer-led mentoring aiming at supporting the social, academic and emotional needs of incoming students. They also created a national consortium of those working in the area to ensure that work and knowledge sharing can continue beyond the lifespan of the funded project.
What did the report recommend?
The report makes several recommendations specific to improving student mental health and wellbeing. For a list of these, please click on the drop-down below.
3SET report recommendations list
3SET report recommendations list
continued implementation of the National Student Mental Health and Suicide Prevention Framework
initiation of early intervention activities
ongoing research within and between higher education institutes to understand the evolving mental health and wellbeing trends, and timely dissemination of relevant findings
conducting annual 'temperature checks'; embedded mental health and wellbeing questions in studentsurvey.ie and/or data capture at the point of registration
mandatory induction training in student support and referral with continuing professional development credits or 'top-up' training in student mental health and wellbeing for all higher education institute staff
commitment to and engagement with student partnership models of consultation, co-creation and evaluation to meet the needs of an increasingly diverse student population
interrogate the pilot peer-led transition (peer mentoring) programme's evaluation findings by rolling the model out to a broader student body
credit-bearing wellbeing promotion modules (e.g. suicide intervention skills
protected, timetabled time for student wellbeing and mental health promotion activities
appoint student services leadership at a vice-president (or equivalent) within each higher education institute
ensure Healthy Campus initiatives include mental health and wellbeing strands that equally respect student insights and the multidisciplinary expertise of student affairs professionals (including counselling, health, and disability services
include services as partners in the design, implementation and evaluation of student mental health and wellbeing interventions
adopt appropriate training and infrastructures to optimise learning opportunities for students and staff
ensure services are fully resourced to deliver best practice within their fields, with additional, values-driven funding to enable collaboration and partnership
embed peer-led transition and peer support in outreach and intervention strategies
inform student affairs colleagues about the scope and potential of peer-led services
agree on local strategies to translate data from the national student counselling database into practical, targeted interventions based on trends
thoroughly evaluate the effectiveness of the student counselling service dataset tools and the ensuing interventions
support the establishment of student affairs research centres, including professional training programmes and postgraduate programme(s) in student affairs
capture and interpret current data about student mental health and wellbeing to inform the creation and delivery of relevant, timely interventions
consider Theory of Change models for stakeholders to identify how interventions can be optimised
further research on the positive downstream effects of mentoring
explore levels of peak demand for Text 50808 in terms of design for peer-led transition
implement experiential training for student volunteers, including advisory group, national consortium, and community of practice participants
unified data systems for all student affairs departments
replicate the Odyssey data system across peer-led transition services to being a national narrative of peer-led experience
evaluate Collaborative Assessment and Management of Suicidality (CAMS) influence on service quality, and make recommendations for integration within staff professional development
meaningful appraisal of the long-term impacts of interventions on student success
embed accreditation benchmarks in counselling and peer-led programming
implement student-centred, shared protocols for managing students at risk
student partnership meaningfully implemented in higher education institutes and service-level strategic development
include students in the evolution of the national consortium for peer-led transition
collaborations between peer-led transition and Equality, Diversity and Inclusion offices to ensure equity of access to mentoring support
consider peer-to-peer models for students experiencing specific barriers, including mental health diagnoses
expand peer-led transition support to include pre-arrival and outduction, and consider similar support for placement, transition, exchange transition, etc
What does this all mean for students?
In essence this report and its associated outputs makes the following
points:
· a whole-of-institute approach should be taken to student mental health – it's not just up to the counselling service etc; it's everyone's responsibility
· student mental health and wellbeing are dependent on student success and vice-versa – this means that it is in an institute's best interest to support students to be as mentally well as possible
· student partnership and co-creation are essential – in other words, students need to be involved in non-tokenistic ways in the development and roll-out of everything
· the 3SET Model for Innovation in Student Mental Health and Wellbeing provides a framework for all campuses to follow in adopting better student mental health and wellbeing, and thus student success, strategies into the future.