Every year a new executive team/ coiste gnó is elected to work at a national level within USI. Candidates are elected at the annual national congress/ comhdail by representatives of all the member organisations across the country.
The role is wide-ranging, and covers physical, mental and sexual wellbeing among others. The VP for Welfare raises awareness through things likes campaigns and events, they participate in lobbying and advocacy on behalf of the student body at national level, they sit on multiple boards and committees and a national representative, and they support local member organisations in their work. They also partner with the Mental Health Programme Manager on all things related to student mental health.
Sarah Behan is the Vice President for Welfare for the 2022-2023 academic year. She studied in DCU, and has been a mental health activist from an early age. She is open about her own mental health experience having been diagnosed with depression and anxiety in her early teens.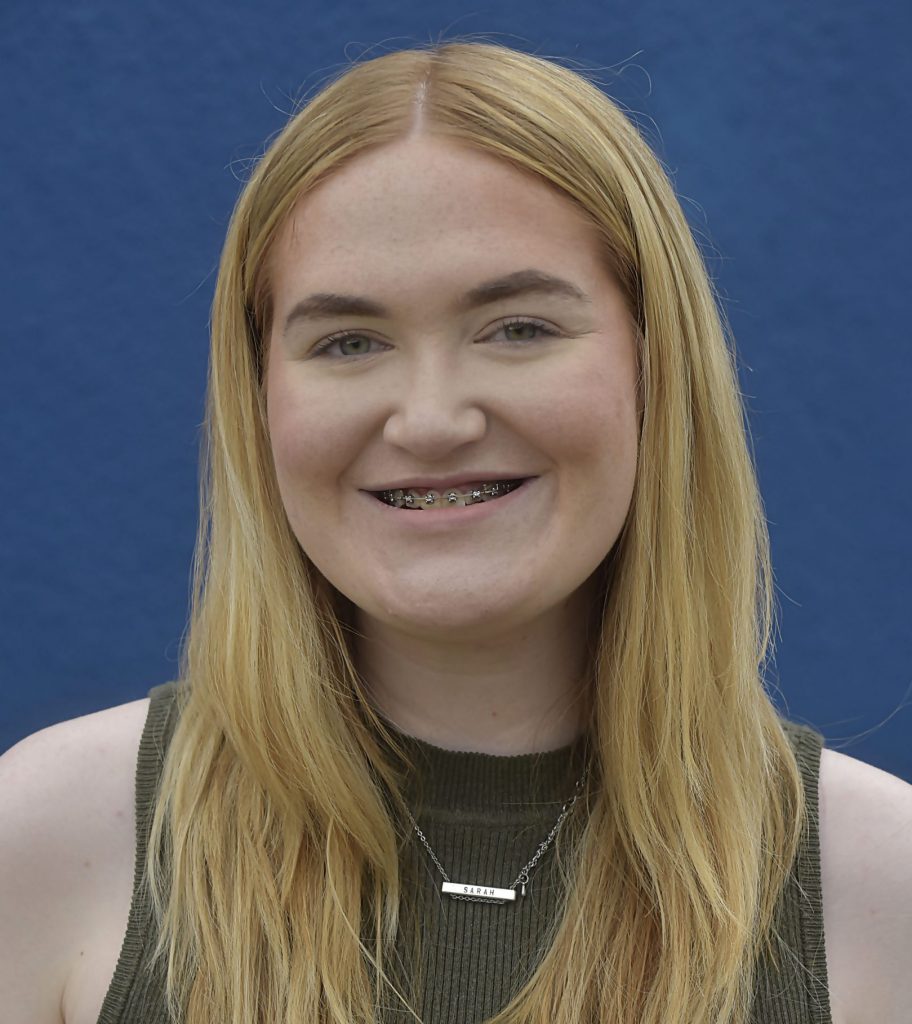 We asked Sarah to answer some questions to help us get to know her better and here's what she told us!
Tell us a bit about your background and how you came to be Welfare Officer?
I was coming to the end of my degree in English and philosophy in DCU, but always knew I wanted to work within a student's union and make sure that student welfare was a priority to student life. I was heavily involved in the DCU Student's Union as a class rep, so I knew what responsibilities came with working full time in a student's union.
After running for the position of Vice President for Wellbeing in DCUSU and being unsuccessful, I decided to take the plunge and go for the position here in USI.
While I didn't have any sabbatical experience previous to this role, I knew my passion for student welfare and mental health was enough to guide me through the process and make me a fit candidate for the role. Coming into the role directly from being a student living the student experience, I know the issues that are surrounding student welfare first hand. The main concerns are student safety, sexual health, mental health and finical support. After directly seeing the impact that this has had on my peers in a college setting, I am more motivated than ever to ensure that students across the island have the adequate support that they need.
Were there particular elements of mental health that you wanted to focus on were you to be elected?
I really wanted to focus on reforming the student counselling services with our Member Organisations. Our welfare officers across the island of Ireland are inundated with emails and concerns regarding the length of waiting lists for the counselling services provided on their campuses. I want to help them achieve a more functional counselling system that is fit for purpose to ensure that any student that may need additional supports are able to access them quickly and effectively.
What are the keys areas you want to focus on this year? What do you think are the main issues students are dealing with at the moment?
One of the main areas I want to focus on is drug harm reduction. The previous VP for Welfare did some amazing work on this last year, and I hope to expand on the work that they have previously done.
For many students, this will be the first time that they experience college life without any Covid-19 restrictions. For a lot of people, the social aspect of getting back on campus will be centred around drugs and alcohol. From being in lockdowns for the past few years, people's tolerances to substances have dropped significantly, so I think a main issues that students will be dealing with is going to be centred around their consumption of substances.
Similarly, with most college events being based within the party scene I think a lot of people are going to experience intense levels of peer pressure first the first time. It is important to keep in mind that many first- and second-year students have not been on campus at all, so this may be their first time experiencing the party scene and being exposed to illegal substances.
From this, I think one of the main challenges for students, welfare officers, and myself, is going to be promoting drug harm reduction in an effective way. While it is safer to not take drugs at all, it is unattainable to deal with this issue under a zero-tolerance approach. That is why I hope to reintroduce the HSE's "If you go, go slow" campaign to educate students on safe practises, as well as alerting them to any supports that they may need should they feel like they are developing a dependence on drugs and alcohol.
What advice would you give to students about their mental health?
The main piece of advice that I would give students about their mental health is to always prioritise themselves and set boundaries that best suit them. Healthy boundaries will feed into every aspect of student life and ensure that they not only have the best college experience possible, but also take these lessons and factor them into their everyday life.
By setting these boundaries in academic settings, students will be able to spot the signs of burnout quicker and be able to prioritise their mental health. With adequate boundaries in place, like start an assignment a week in advance, for example, students will be able to avoid the stress that comes with cramming and being unhappy with the final project.
By establishing healthy boundaries in social settings, like your relationship with alcohol or drugs, students can also evaluate their dependency on substances, and try establishing a heathier relationship with substances.
If there was one thing related to mental health that you wish all students knew, what would it be?
The one mental health related thing that I wish students knew is that you do not have to be in crisis to receive mental health support.
There is a toxic culture surrounding getting mental health support that makes people believe that they are not sick enough to reach out, or that there is somebody worse off that deserves the support more.
This idea is incredibly dangerous. No matter how big or small you may feel like your mental health issue is, you are worthy of getting help. Mental health is something everybody has, but there is still a huge stigma surrounding reaching out for help.
What is your favourite/ main form of self-care and why?
My favourite form of self-care is rest. Sleep and relaxation are often overlooked as forms of self-care but are vital to making sure that your mental health remains in tack. You cannot look after yourself if you are exhausted or burnt out, so don't feel guilty for taking a nap!